LVT FLOORING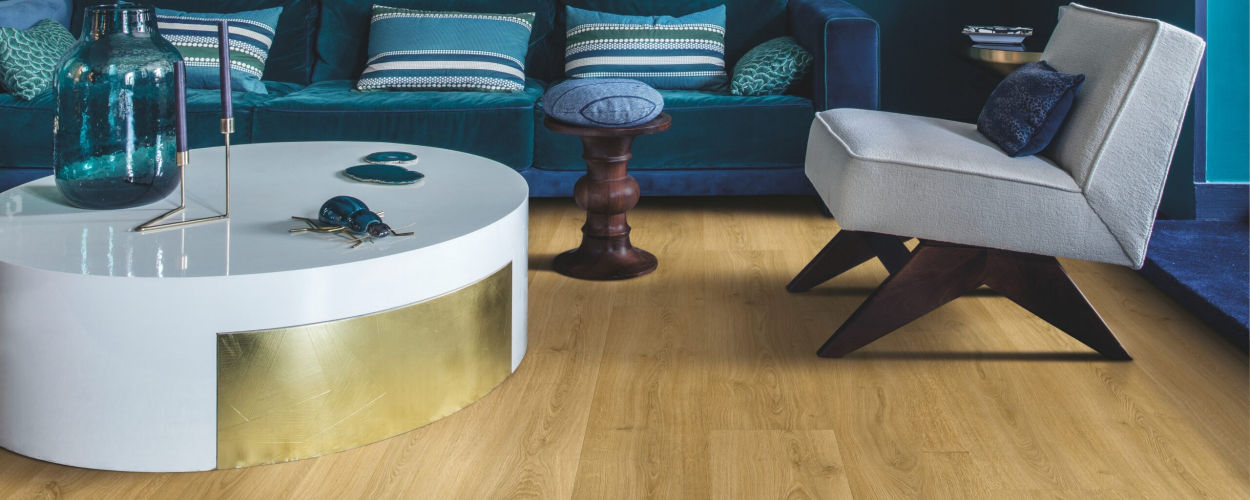 LVT Flooring

Click here to see the full range of Quick Step Flooring
Quickstep Livyn Vinyl Flooring
Quickstep Livyn vinyl floors are designed to combine the natural look of a real wood or tiled floor, with the advantages of a vinyl floor. They're fully waterproof, warm underfoot and incredibly hard-wearing, making them both kid and pet friendly and a perfect option for bathrooms and kitchens.
Vinyl Flex: floors for maximum comfort
Warm, soft and silent: Vinyl Flex floors are a real pleasure to walk on. The planks are easy to install, and the Stain and Scratch Guard technologies offer ultimate protection for long-term enjoyment.

Soft & silent Warm feet from the moment you wake up, and a soft touch when you kick off those work shoes in the evening. Our Vinyl Flex floors not only look good, they're also extremely comfortable – for your feet, but also for your ears, thanks to their sound-reducing properties.

Scratch & stain resistant
Our revolutionary Stain Guard technology will keep your floor spotless and gives dirt and even scuff marks no chance. Our luxury vinyl planks also feature Scratch Guard: an innovative technology that protects your new floor against scratches better than any similar vinyl product on the market today.
Alpha Vinyl: rigid high-performance floors
If you're looking for a floor that offers style and practicality in abundance, Alpha Vinyl is an offer you can't refuse. Its ultra-strong core and unique top layer protects against stains, scratches and impact damage, while the innovative click system ensures the most water resistant vinyl floor ever made. What's more, Alpha Vinyl is perfectly suited for renovations and can be installed on virtually any surface, regular or irregular.
100% waterproof
Alpha Vinyl features our advanced watertight click system. Combined with our water-repellent technology, this ensures a fully waterproof floor that is ideal for kitchens, bathrooms, and other areas prone to moisture and spills. It also makes your new floor a lot easier to clean.
Ultra-strong for maximum durability
Falling objects, spills and scratches don't stand a chance thanks to Alpha Vinyl's ultra-strong core and unique top layer with scratch- and stain-resistant technology. Not only does this make your floor last longer, it also ensures that you can truly be yourself in your own home.
Suitable for irregular surfaces
Alpha Vinyl's solid core offers another advantage: in most cases, you won't have to prepare your subfloor before installation. This makes Alpha Vinyl an excellent choice for renovation projects. It also helps that - thanks to the user-friendly, patented click systems - the planks are exceptionally easy to install.